To combat global warming, wind turbines along the coastline could be used for the dual purposes of generating electricity at times when there is wind and evaporating water at times when there is no wind. Just a small breeze over the water can give the top water molecules enough kinetic energy to overcome their mutual attraction, resulting in evaporation of water and associated cooling of both water and air.
The evaporation will give some cooling effect, but the real impact on global warming will come from albedo change. When there's much wind at night, offshore wind turbines could produce more energy than is needed on the grid. Such surplus power could be stored and - at times when there's little wind - used to pump up sea water and have this sprayed by the turbines as a fine mist over the water. This spray will contain tiny particles of sea-salt that get sucked up into the air, especially when there's little wind and sunshine causes rising currents of air. These little salt particles will attract further droplets of water from the surrounding air, forming clouds that are lighter in color from space than sea water (see albedo comparison below, from
Wikipedia
).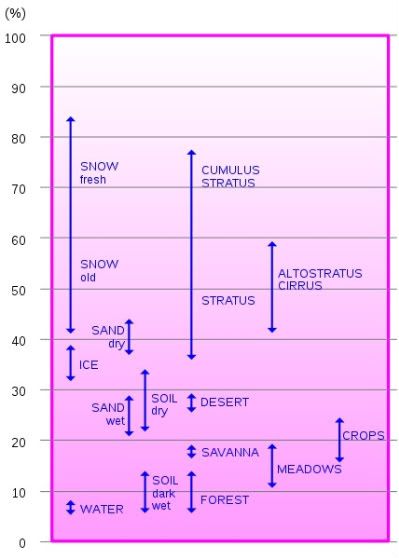 In early 2006
, I wondered to what extent such increased cloud coverage could mitigate global warming. On the one hand, the extra clouds will reflect more sunlight back into space, but on the other hand water vapor is itself a greenhouse gas. While the albedo difference between clouds and sea water is obvious, some of the evaporated water could rise higher up into the atmosphere and increase humidity of cirrus clouds at high
altitudes, thus trapping the heat underneath and heating up Earth even further through the greenhouse effect. Also, such evaporation could cause unwanted salty rain to fall over land.
Has anyone done any modeling on this?
Cheers! Sam Carana.